Curtis Point Cottages a family & fishing resort
FALL WEEKDAY SPECIAL Monday-Thursday $100 per night for a two bedroom $150 per night for a three bedroom
Curtis Point Cottages is now open to all guests in 2023! Please contact us for a full list of changes we have made to meet Public Health regulations and recommendations. Some of the addition includes: - Full application of Health Canada approved hard-surface disinfectant before and after stays. - Guests must bring their own bed linens (Pillow, sheets and cover) - guests are encouraged to bring their own life-jackets, rental jackets will be disinfected for a minimum of 24hrs between use - all dishes and cutleries will be sanitized between stays - rental boats will have a complete spray down with approved disinfectant between use - high-traffic area such as the fish-cleaning hut will only allowed one family household per use. Daily cleaning and self-cleaning supplies will be provide. Are you looking for a family vacation where new memories will last a lifetime? Perhaps to start a new annual fishing tradition with the boys? Or simply a weekend escape from the city with your best friends? Curtis Point Cottages has it all and more than you can expect! Located on the south shore of Rice Lake, at the heart of beautiful Kawartha Lake region. This 32km/20mile long and fertile lake is home to many warm water fish species.
"Rice Lake is said to be the lake with most fish in Ontario, which includes panfish, walleye, muskellunge and bass."
Atypical vacation day starts with a picturesque sunrise while accompanied by the symphony of wildlife. Finish a chapter of your favorite book and overlooking Rice Lake from the comfort of our 15+ boat slip dock. After breakfast, hop into your choice of complimentary canoe, kayak or paddle boat. Immerse in nature's beauty within our sheltered bay. Perhaps a siesta for a quick charge or an excursion to explore local attractions. Why not remember your happiest moments on the swing, while looking over children run free in the playground. Participate in a game of volleyball or a quick dip in the swimming pool to cool off. Before dark, watch rental boats return with their trophy catch and prep them for dinner at our spacious fish hut. Gather around the campfire for sweets, stars and stories. Ending a day of busy activities, the quiet night sky reminds you the importance of family, friendship and the simple moments in life.
N
ot a fan of wiggly worms and fish slime? There's something for everyone in the family. Inside our 200m2/2150ft2 barn is a massive indoor recreational hall. Movie night or playoff games, enjoy the high-definition program with our massive 60 inch screen. Halftime or take a break, why not start a ping pong, table-pool or darts match? Late at night, get your poker face on and share your adventure over a few cold ones. Keep your social profile updated and hashtags interesting with our complimentary Wi-Fi. Don't forget the indoor playground for young children. God forbid, when a thunderstorm rolls by, your indoor entertainments are endless.
General Info:
Large Recreation Hall: pool table, table tennis, foosball table, darts, indoor playground, HDTV, Wi-Fi - suitable location for your Family Reunion or Country Wedding! *Used by appointment only
Gift & Convenience Store
In Ground Pool
Pontoon Boat
Paddle Boat
Canoes
Kayaks
Horseshoes
Volleyball
Playground
Boat & Motor Rentals
Fish Freezing Facilities
Laundromat
3 Piece Bath
Gas Barbeque ($30 for each 20lb tank of gas)
Microwave
Picnic Table
Refrigerator
Stove
Coffee Maker
Toaster
Dishes
Utensils
Pots & Pans
Can Opener
Pillow and Blankets
Electric Heat
Clock Radio
Kitchen Towel
Dish Soap
Fans
Air Conditioner
Please bring your own bed sheets (top and bottom), towel, toilet paper and coffee filter.
Numerous Golf Courses
Kawartha Downs / Harness Racing & Slots
Flea Markets / Craft & Gift Shops
Horseback Riding
Northumberland Forest offers hiking trails, cross county skiing and snowmobiling
Lang Pioneer Village
Peterborough Zoo
Peterborough's Festival of Lights
Canoe Museum
Peterborough Liftlocks & Riverboat Cruises
Port Hope Capitol Theater& Antique Shops
4th Line Theater
Seasonal Festivals & Art Shows
Cobourg Waterfront Festival
Victoria Concert Hall
Free Boat Launch and Free Wireless Internet(Barn area only)
Reservation
Curtis Point Cottages
6099 Curtis Point Road
Alnwick/Haldimand, ON K0K 2X0
Phone: (905) 352-2229
Email: info@curtispointcottages.com
Your hosts: Joan, Ping & Will
Cottage & Boat Rental
Operational season: 2nd Fri of May to 2nd Sunday of October
We gladly accept cash or debit, check and credit card for deposit only.
Cottage & Trailer

Rental

Shoulder Season Special

Before and after summer week

Summer Weekly

3rd Sat of June to Labor Day

Weekday Nightly

Weekend

2 Nights

3 Nights

2 Bedroom with air conditioning

4 people

$615

$755

$140

$315

$435

3 Bedroom with air conditioning

6 people

$810

$975

$180

$445

$565
* Additional guest fee $25/night, $100/week. Maximum 2/cottage additional guests/cottage.
Day visitor: $10/day approved and registered by the office.
** We welcome respectful pets, friendly to other guests. Please contact for information. Dog cleaning fee $20
2 Bedroom Cottage
Click Image for Full Resolution
3 Bedroom Cottage
Click Image for Full Resolution
Boat & Motor:

Daily

2 Days

3 Days

Weekly

15' Fiberglass

9.9 Motor-Swivel Seats

$80

$140

$185

$275

Legend Pontoon Boat 20'

with 50 HP motor & fishfinder

$210

$360

$480

$800

Canoes, Kayaks & Paddle boat

Complimentary for Cottage Guests

Dock Space Rental

$10

$20

$30

$60
Gas and oil not included. $20 cleaning fee applies to dirty boat upon return.
$1000 damage deposit required on pontoon rental and $200 required on boat rental.
Legend Pontoon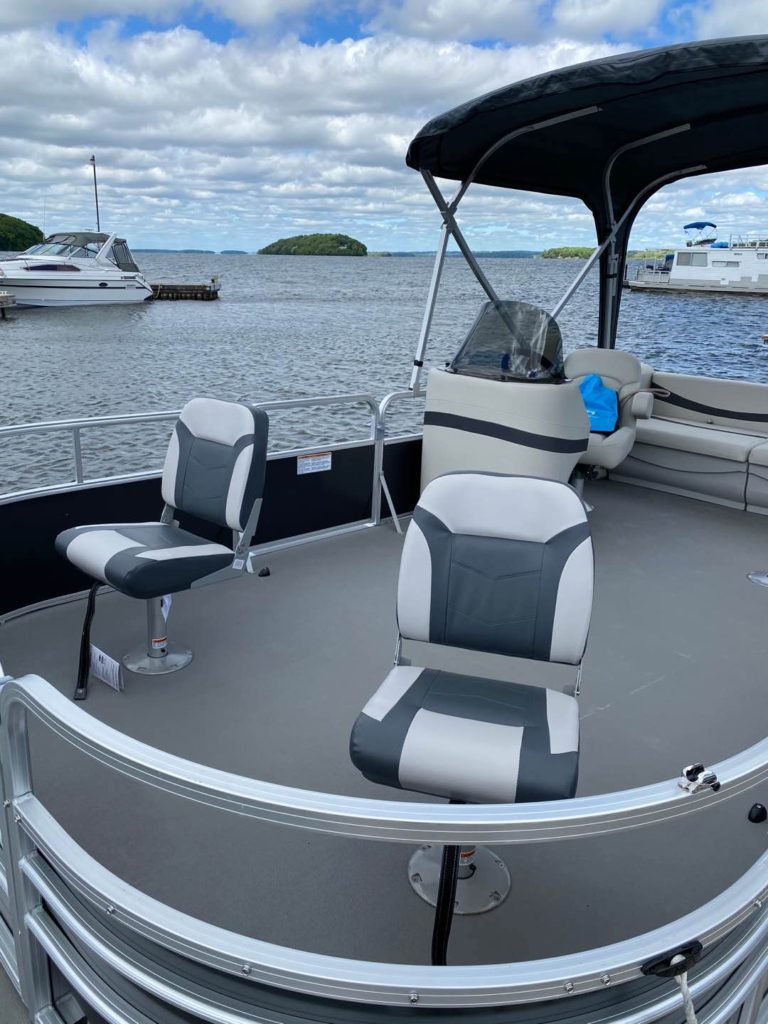 Click Image for Full Resolution
9.9HP Fiberglass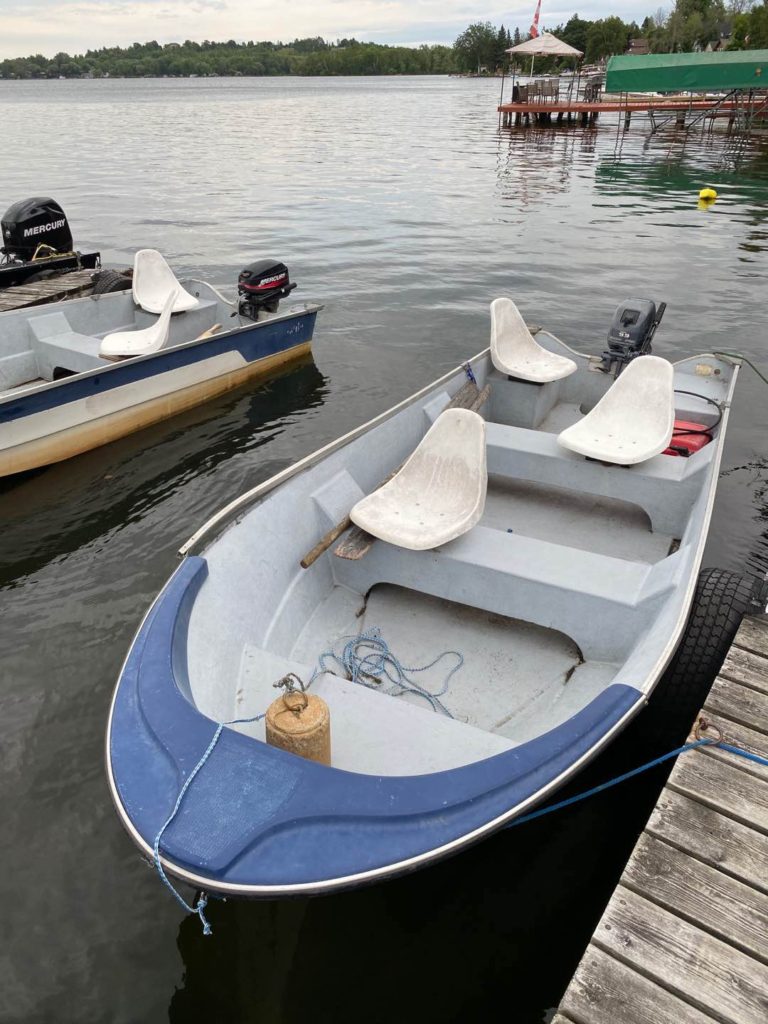 Click Image for Full Resolution